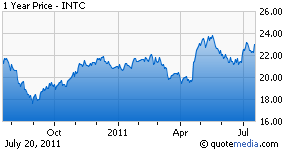 Intel (INTC) reported better than expected results for the second quarter after the close today.
Earnings per share came in at 59 cents, beating the Zacks Consensus Estimate of 51 cents. This marks the chip maker's 10th consecutive positive earnings surprise. EPS rose 16% over the same quarter in 2010.
Revenue jumped 22% year-over-year to $13.112 billion, also ahead of the Zacks Consensus Estimate, which was $12.807 billion. It was Intel's fifth consecutive quarter of record revenue.
The company cited strong corporate demand, the continued rise in mobile devices and Internet traffic, and soaring demand for computing in emerging markets as the main drivers of growth.
Each business segment experienced double-digit revenue growth. The PC Client Group experienced revenue growth of 11% while the Data Center Group rose 15%. Intel Atom microprocessor and chipset revenue fell 15% over the same period, however.
The gross margin fell from 67.2% in the second quarter of 2010 to 60.6% but was consistent with the company's expectations.
Management said it expects to carry its strong momentum into the second half of 2011. Management projected annual revenue growth in the mid-20% range.
For the third quarter, management said it expects revenue between $13.5 and $14.5 billion and a gross margin around 65%.
As of July 2, Intel had over $13 billion in cash, cash equivalents and securities compared with $2.1 billion in long-term debt. The company spent $2.0 billion repurchasing 93 million shares.
Intel also spent $961 million in the quarter paying dividends. It currently yields an attractive 3.3%.
INTC trades at just 10.2x 2011 earnings, a discount to the industry average of 15.0x. Shares were down slightly in after hours trading.