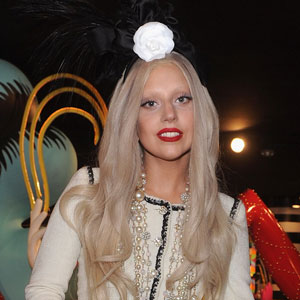 Jamie McCarthy/Getty Images for Barneys New York
Why does Lady Gaga say she may never marry? Doesn't everyone want to date a star?
—Dusty, via the inbox
No, not everybody wants to date a star. But too many people harbor just such fantasies. As for Gaga, yes, she's told Vanity Fair that she fears she may die having never known marital bliss.
But is that really her fate?
For one, Gaga may already have a candidate in the pipeline, if the reports about Vampire Diaries actor Taylor Kinney are to be believed. (Maybe, maybe not.)
And even if those reports aren't true, believe me, honey, nobody has an easier time meeting potential sackmates, soulmates or baby daddies than a star. Yes, entertainers work long hours. Sure, they're also hemmed in by velvet ropes on one side and bodyguards on the other.
But celebrities also have one thing that the rest of us don't: an entourage. And time and again, it's the entourage that procures hookups, dates, heck, even spouses, for stars.
When Michael Douglas wanted to meet Catherine Zeta-Jones, he got his publicist to investigate where she'd be and when; then he reportedly gate-crashed a party and asked her out. When the two finally did meet for a drink, he brought the publicist with him. (She reportedly brought her hairdresser.)
When Kim Kardashian wanted to meet Kris Humphries, she says she had a friend hook them up through a dinner party. Ditto with another ex couple, Madonna and Guy Ritchie, who were introduced by mutual friend and actress Trudie Styler, wife of Sting.
Brad Pitt and ex Jennifer Aniston met on a blind date arranged by their agents. (Pitt reportedly had his call hers.) Cindy Crawford also met her husband through her agent.
"Actually, his manager called my mom, who's my manager," she said in March. "I'm blushing!"
If Gaga wanted to meet anybody—literally, anybody—she could do it with a single phone call to her minions. And if Gaga really, truly, wanted to marry, she could find, oh, I would say, at least one or two people who would be up for it.
The real question is, does Gaga really want marriage?
Gaga's Vanity Fair interview indicates that the singer's biggest obstacle may come from within, not the guys she dates. And those obstacles, if they do exist, have nothing to do with anyone but her.