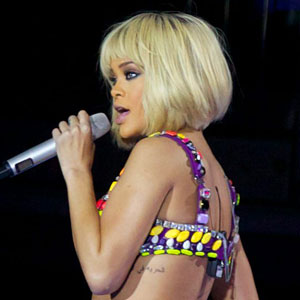 Fame Pictures
Remember when Rihanna went blond for the cover of Vogue U.K. and we were a little taken back but she's so hot that it worked anyway?
Well, she must have sensed it, because she brought it back for her performance at the O2 Arena in London.
MORE: Rihanna Goes Bombshell Blonde for Vogue U.K.: Love or Hate It?
Ri-Ri hit the stage to perform "We Found Love" in what looks like an extremely colorful, high-waisted bikini and blond bob.
Dare we say? She pulls it off quite well!
So could this be a permanent thing? Possibly! According to Grazia, the singer also strutted the new 'do while shooting the music video for her latest single, "You Da One," in the London area of Dalston.
Are you digging the blonde or wanting it to go away? Let us know in the comments!