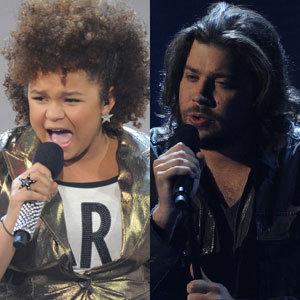 Ray Mickshaw / FOX.
Maybe they should just change the title to The Love Factor!
According to reports, The X Factor's top five finalist Melanie Amaro is dating Trace Kennedy, the lead singer of the recently ousted Stereo Hogzz, and Astro's girlfriend Molly, whom he infamously gave a shout-out to in his final moments on the show, actually has a surprising connection to the series!
But what did Melanie have to say about the romance rumors when we caught up with her after the show? Plus, Josh Krajcik sounds off on Simon Cowell and L.A. Reid's "ridiculous" critiques of his Rihanna cover...
"The only romance I'm having right now is with my microphone," Amaro says when asked if she's dating Kennedy. "I have a very close friend, but it's not like right now I'm doing anything to distract me, because I have to worry about this 5 million dollars. Like I said, I'm so faithful to my microphone. I've been together with him for a very long time and I don't think I'll cheat. I love my microphone."
While she says she's in a committed relationship with her microphone right now, things could definitely change after the competition. "We'll see," Amaro coyly says.
Turns out, Amaro and Kennedy wouldn't be the show's first couple! While talking about his own relationship status, Marcus Canty (who does have a girlfriend, by the way!) revealed that Astro met his girlfriend Molly on the show. Yes, she was a fellow contestant! "I met Molly," he says. "Molly was actually from boot camp." So what did Canty think of Astro's shout-out to Molly on last week's results show? "Man, I was laughing when I saw him on TV! He's a sucker for love!"
As for the judges, Canty says he isn't sweating Cowell's less-than-stellar review of his second performance, which the British judge called "a bit boring." Could Cowell have been a little too hard on Canty due to some bitter feelings after Nicole Scherzinger and Paula Abdul kept him in the competition over Drew? "Simon's gonna be Simon," Canty says. "You gotta take Simon with a grain of salt. It is what it is. I felt like I gave heart."
Someone else taking Cowell with a grain of salt? Krajcik, who got some slack from Cowell and Reid after his performance of Rihanna's hit song "We Found Love." Reid and Cowell said it didn't sound like something the rocker would ever record. Krajcik agrees with them, considering he was asked to perform a dance song as this week's theme was Dance Music Hits. "So what dance number would be something I would do?" Krajcik says. "Please. Please guys, come on! OK, let's do soul week, guys!"
As for why he picked the song, he explains, "I wanted to kind of prove I could do a Rihanna song. I think it's a great song. It's obviously killing it out there for her. I wanted to add some strings, change some chords around, make it different and make it mine. I think we accomplished that. I was under the limitations of it had to have a dance kind of feel to it. I thought it was great!"
Krajcik wasn't done voicing his frustrations with the judges' comments. "I was surprised by some of L.A.'s comments," he says bluntly. "To tell me that 'Something' was karaoke-ish was ridiculous.
Ridiculous. The song's very different from the way anyone's ever done it because it's my version."
One of the night's biggest surprises came from rapper Chris Rene, who performed an original song...minus the rap. Oh, and he also plays guitar! Who knew? Well, Krajcik did. He tells us he found out a few weeks ago when Rene asked to see his guitar. "I was like, Oh s--t," Krajcik recalls with a laugh. "I thought I had that cornered, dude!"
Someone who didn't know about Rene's hidden talent? His mentor! "I forgot to tell L.A. that I played guitar," Rene says. "I've been playing guitar since I was 12 and I was just glad to break it out."
What did you think of tonight's show? Did you enjoy Krajcik's Rihanna cover or do you agree with Cowell and Reid's criticisms? Were you surprised when Rene busted out the guitar? And, of course, the most important question of all: Do you think Amaro and Kennedy make a cute couple?!