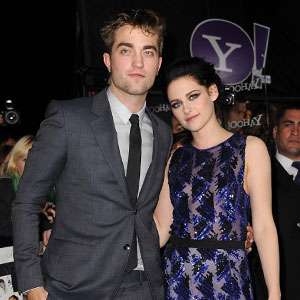 Kevin Winter/Getty Images
Wanna be roomies with Robsten? Good luck with that. But in the meantime, here's the next best thing:
The L.A. love nest that the two rented earlier this year is on the market. You remember the swanky five-bedroom, five-bath Bel-Air pad that Robert Pattinson and Kristen Stewart shacked up in this summer before eventually moving out because some, um, "dedicated" Twi-hards had sniffed out their location, right?
Well, will the Robsten connection help the place sell?
Let's get the real-estate biz out of the way first.
David Mossler, the property's agent, tells E! News Rob and Kristen leased the location for "considerable amount of time" and it's now on the market with a hefty price tag: $5.95 million.
The listing boasts that the pad is "surrounded by greenery" and "perched high on a private promontory." Though, we wouldn't count on the privacy too much if your face belongs to the most famous vampire franchise ever, 'cause you ain't gonna get it.
But hey, maybe Rob left behind something in the move? That's worth a couple mil or so, right?
We've reached out to some real-estate experts who've told us that—as much as we think pimping R.Pattz and K.Stew as former owners will help sell the place—their famous names probably won't raise the price (or get it off the seller's hands any faster).
One of the experts over at Zillow tells us, "Despite the flurry of media interest around celebrity real estate, in today's especially challenging real-estate market, selling a celebrity home is much like selling any other high end property—it's tough. The owners of Rob and Kristen's former rental home should price competitively based on comparable homes for sale and local market conditions, regardless of their famous past tenants."
Whatever, we know the housing market is in the crapper, but it's Robert friggin' Patterson. Some rich Twi-hard will take the place off Mossler's hands, we trust.
After all, aren't some of those crazy Twi-moms super rich?