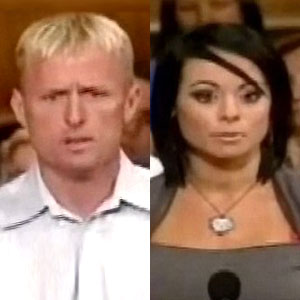 People's Court
An estranged couple goes on The People's Court hoping to settle an ugly dispute and one of them winds up missing. Cue the Chandra Levy-like media obsession.
Yesterday, Orlando police said the only suspect in the disappearance of Michelle Parker is her former fiancé, Dale Smith Jr.
So while the plot thickens, we thought we'd look back at what led up to the headline-grabbing announcement.
2006: Parker, a 33-year-old bartender from Geneva, Fla., and Smith, a 40-year-old ex-Marine with a violent past, begin an on-off relationship that includes twin girls. (Parker also has an 11-year-old son from a previous relationship.)
August 2009: Parker requests a domestic violence injunction against Smith, stating in court papers that he cursed at her and broke a car window as she was holding their 15-month-old daughter. She also claims that Smith—who per the Orlando Sentinel has previous arrests for marijuana and battery dating back to the 1990s and was court-martialed in 2001 on a drug and domestic battery charge—had roughed her up on previous occasions.
September 2009: A judge dismisses the injunction, though no reason was given.
June 2010: The couple get back together, get engaged (as they reveal on their People's Court episode) "down on the beach on a pier in Cocoa, Fla.," and she moves in with him.
September 2010: The two get into a heated argument at the Hard Rock Café in Atlanta while attending DragonCon, an annual sci fi convention. Smith accuses her of sleeping with another man named "Paul" and she throws a drink in his face. The duo return to the hotel wheer Parker calls the cops and a report is taken. A few weeks later, Parker moves out.
May 2011: Parker and Smith tape an episode of The People's Court in which they ask Judge Marilyn Milian to adjudicate who gets the engagement ring after they broke things off. Smith wants $5,000 from his former ladylove for failing to return the bauble. During the segment, they discuss issues they had in their relationship. Parker tells the judge that Smith cheated on her constantly, called him "malicious and vindictive," and says his behavior was "alcohol-related." After trading accusations, Milian rules in favor of Smith and orders Parker to pay him $2,500.
Nov. 17: The People's Court episode airs. That night, Parker fails to turn up for work at her bartending job. Friends and family do not hear from her. The last person known to have seen her is Smith, after Parker dropped off the twins at his condo.
Nov. 18: Parker's Humvee is found abandoned at an apartment complex in a suburb of Orlando. The same day, her family launches the Official Michelle Parker missing-person Facebook page, pleading for help in locating the mother of three.
Nov. 26: A SWAT team raids the home of Smith's father, but turn up no hard evidence.
Nov. 28: Orlando police investigators officially declare Smith the primary suspect in Parker's disappearance after he refuses to take a lie-detector test. Parker's mother, Yvonne Stewart, appears at a press conference with the local police chief to plead for volunteers to help search for her daughter.
Nov. 29: Parker's family make the morning-show rounds. Michelle's sister, Lauren Erickson, tells Today that she suspected right away that Smith was behind her disappearance, especially since The People's Court aired the day she vanished. "I'm honestly not surprised that this has happened," she says.
Smith has subsequently taken to Facebook to deny involvement and plead for Parker's return.