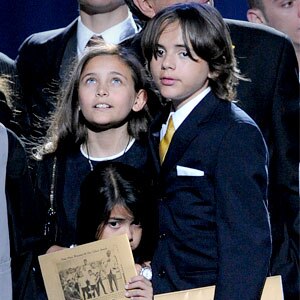 AP Photo/Mark J. Terrill, Pool
What some may feel is justice, the Jackson family would call "insufficient," as Conrad Murray faced the maximum possible sentence of serving four years behind bars.
Court documents revealing Katherine Jackson's victim impact statement say she is "devastated" by the loss of her son and "all of the family members feel angry and betrayed" by Murray.
But what tugged at our heartstrings were the words she spoke of Michael Jackson's three children: Prince Michael, (Prince) Michael Joseph and Paris, of whom she is the legal guardian of.
"Michael Jackson was his children's world, and their world collapsed when he left," the report states.
Ms. Jackson also recalls the night at the hospital, when her son was pronounced dead, saying, "His daughter [Paris] was crying and stated, 'I wanna go with you.'"
It was also stated that the three young Jacksons were planning to go into the filmmaking industry, which they intended to begin after their father's music tour.
On a different note in the report, Katherine felt Murray lied to the police, the press and the court, saying there was "no possible way the defendant left the victim's side for only two minutes" and that Jackson's doctor delayed calling 911 because he felt "negligent and responsible for the victim's death."
—Reporting by Claudia Rosenbaum