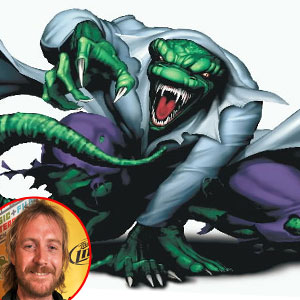 Marvel Comics; Jesse Knish/Wireimage
Marvel Comics; Jesse Knish/Wireimage
Between set shots, stills and trailers for The Amazing Spider-Man, we've all seen what Andrew Garfield looks like in that superhero suit. Not that it was ever really a big mystery to begin with. After all, we're all pretty familiar with Peter Parker's alter ego.
Well, we just assumed that we'd have to wait for the movie to hit theaters next summer for any true reveal of the villain being played by Rhys Ifans.
That is, until the folks over at Pez decided to release a couple images of its upcoming candy dispensers...
No surprise, Spidey is Spidey.
But the Lizard seen here is obviously going to generate the most talk among fanboys and fangirls who no doubt have their own ideas of how the character should appear.
Of course, like many movie-related toys and products, this may or may not be a true representation of what we'll actually see onscreen come July 3, 2012.
So, comic book geeks, what do you think? Is this how you imagined the Lizard looking? Sound off in the comments!